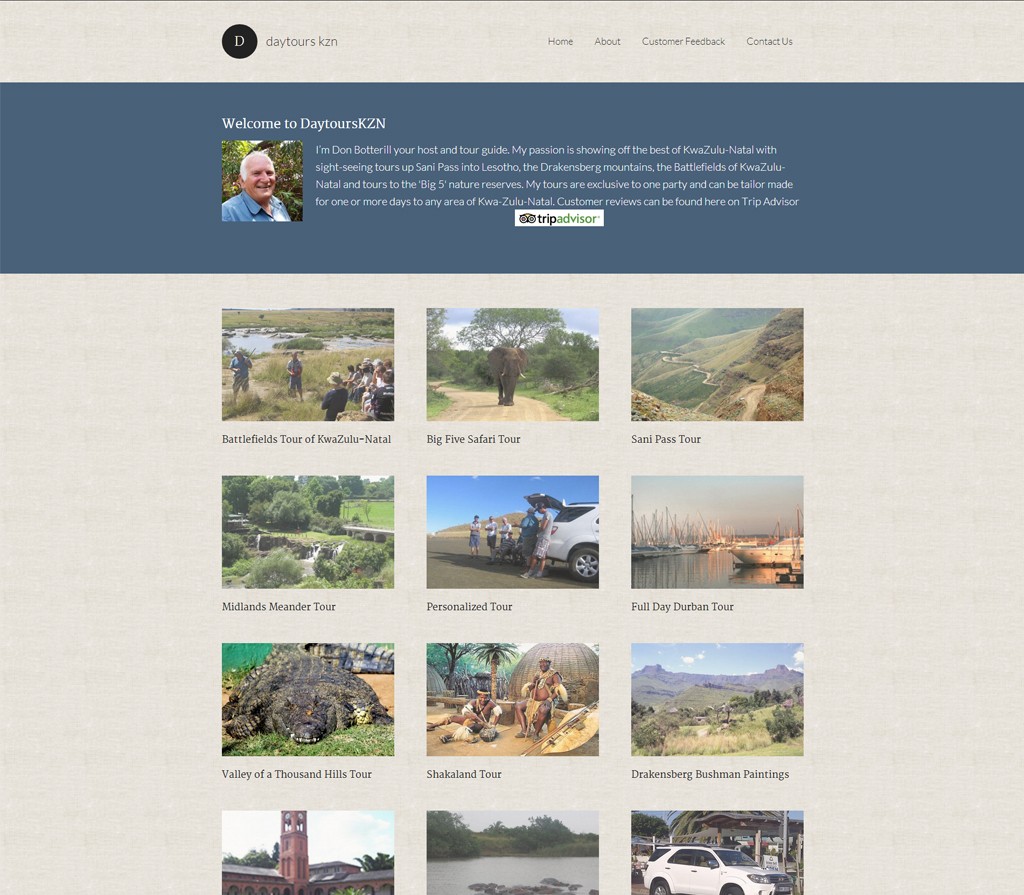 Daytours KZN is a platform for showing Don's offerings to the public.
Don't original site presented much of the same content as is on the current site. There were listings of some of his tours, pictures from a few of them and then some pages devoted to his own profile and other details.
Solid setup, organization and layout changes were our first priority.
Don really wanted his website as a good showcase of what he has on offer. We helped him to set his site up with the correct SEO settings, made sure he had links to his social media accounts and that his site was mobile-responsive.
After being setup for a few months, and with only a few content updates, we received this feedback from Don:
Hi Karin,

I have just had a couple from the UK book a Battlefields and Sani Pass tour with me off the site for November.

Well done to you and thank you so much. That now makes it FIVE tours that have come off the site in the last two weeks or so. Two people have booked two tours each and another has booked one so it is really three different "client's". Absolutely amazing.

You are a superstar !!!

Cheers'
Don.
Well, I was blown away.
Just goes to show that with the correct list of ingredients and the right tools, the cooking will turn out well. Don's website has become "a place to get new clients" rather than just another lifeless page in the Internet jungle.
Site Redesign
The image is Don' original site design.
The big banner from the top was removed and a design with more flow was employed. A short introduction was added to welcome new guests to the site and give them an overview of what there is to find.
The links to the tours were kept, but in a different layout.
We also made the decision to put the contact forms more prominently. A contact form was placed on the home page as well as the pages for each of the tours.